With decades of combined experience in the legal and technology communities, we've got a well-seasoned team at the helm.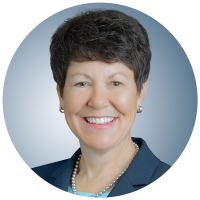 Tammy Carter
Chief Executive Officer
Tammy Carter is the Chief Executive Officer of File & ServeXpress. She leads the company's vision, strategic direction, and executive decisions.
Having founded CaseFileXpress in 2002, one of the pioneers in eFiling that merged with File & Serve to form File & ServeXpress, Carter provides an understanding and knowledge of eFiling and its impact to court and legal clients that is unprecedented in the industry. Carter brings 30-plus years of client management, IT applications, and public sector experience and over 15 years of eFiling industry expertise to File & ServeXpress.
Carter's leadership is driven by her desire to listen to the challenges of stakeholders, including judges, attorneys, and court clerks, and resolve those challenges with high-quality client support and software delivery. Even with a client base that has grown from just a few thousand at the start to more than 200,000 registered filers today, she insists on continuing to build upon the foundation of the business – ensuring timely filings, system reliability, listening to and addressing client needs, and fostering relationships.
Prior to assuming the CEO position, Carter served in roles including the General Manager, and Vice President of Government and Legal Services of File & ServeXpress, and President of CaseFileXpress. She is a frequent writer and presenter on legal eFiling, court implementations, and law firm automation, and has personally trained thousands of attorneys, paralegals, and court personnel in the use and benefits of eFiling. This involvement allows her to stay current on the needs of File & ServeXpress clients.
Carter is a graduate of California State University, Sacramento (CSUS) with a Bachelor of Science in Business Administration with a concentration in Management Information Systems
Sara Collins
Vice President of Product Management

Sara Collins is the Vice President of Product Management at File & ServeXpress. In this role, she is responsible for managing the product roadmap and working with the development team to bring new features to the market. Collins acts as the primary bridge between the end business users and our technical and development teams.
Additionally, Collins collaborates with key stakeholders to research, plan, prioritize, and deliver new products, product enhancements, remediation, and design. Sara also directs and manages the Marketing team in product launch campaigns and all internal and agency marketing efforts.
Collins is well regarded within the organization for being solutions-oriented and having strong client management and leadership skills, combined with in-depth product knowledge of eFiling and eService solutions.
Since first stepping into the industry in 2006 as a Court Solutions Specialist for LexisNexis File & Serve prior to the merger, she has attained a diverse background of experiences that provide her with a broad understanding of client needs. She gained invaluable experience on the first statewide eFiling implementation for Colorado where she was an Account Manager working closely with the judges, clerks, and court staff. She has been promoted from within the company in multiple progressive roles, including Project Manager, Senior Product Management Consultant, Solutions Architect Manager, IT Services and Support Manager, and Vice President of Client Operations.
Prior to joining the company, she spent several years with Caleel + Hayden in Denver and Boston acquiring tactical experience in sales, marketing, and product development.
Collins holds a Bachelor of Science in Business Administration in finance and marketing from the University of Denver, and studied abroad for one term at American Intercontinental University in London. Additionally, she is a Certified Scrum Product Owner (Scrum Alliance), holds a Pragmatic Marketing Certification from Product Management Requirements that Work, a Product Management Professional Certification from the Project Management Institute, and a Masters Certificate Applied Project Management from Villanova University.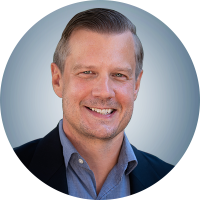 David Small
Vice President of Business Development 

David Small is the Vice President of Business Development, leading FSX in their continued effort to bring secure case, document, and party management solutions to courts and law firms nationwide.  
In his role, Small's key responsibilities include working with our executive team to support established strategies for sales growth, personally driving and cultivating new relationships, hiring, training, and managing a talented business development team, and supporting our existing account management team as they cultivate additional sales growth. His wealth of hands-on experience in both the legal and technology industries give him a unique perspective on the industry and how FSX can continue to grow within it. 
Small joined File & ServeXpress in 2022, following a combined 17+ years of experience at Law360 and LexisNexis. In his years working his way up the leadership ladder from individual contributor to National Sales Manager, Small honed his skills in people and product management, problem-solving, and collaboration. Small values learning, strength-based development, team collaboration, and autonomy, and models these values in his work and at home.  
Small brings to FSX a special talent for creating and nurturing sales teams that produce results – through his career, he has individually sold over $50M in products and services. His teams have generated over $100M in sales. He values authenticity and a personal understanding of how he can help his clients and his teams succeed. His unparalleled skill for scoping out and maximizing on new growth opportunities make him an excellent fit to lead File & ServeXpress into a new phase of business. 
Small graduated from American University in Washington, D.C., a city he calls a "terrific place to live." He currently resides in San Diego, CA.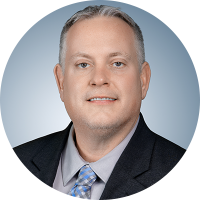 Brock Rogers
Vice President of Information Technology
As the Vice President of IT at File & ServeXpress, Brock Rogers is responsible for FSX's Product Operations and Product Development teams, which comprise a mix of FSX employees and specialized contractors. His work leading the Product Operations team ensures that FSX's Azure-hosted SaaS platform is secure, reliable, and scalable, while his leadership of the Product Development team is centered on creating industry-leading software solutions that our customers love.
Rogers is adept at translating requirements from the business team to produce high quality products in a timely fashion. His extensive experience troubleshooting large scale systems helps him to provide accurate and timely resolution to any system incidents at FSX, ensuring we provide a secure and reliable product to all of our users.
Rogers has been an integral part of the FSX team since 2021, bringing with him over 20 years of experience in the financial technology space designing highly scalable solutions that are extremely secure and support high transaction volume with minimal latency. Additionally, Rogers values mentoring junior team members, and is passionate about fostering a healthy, productive environment where teams make and meet commitments. Prior to joining FSX, Rogers spent over a decade in software development, honing his programming and product development skills for a variety of products.
Rogers ensures FSX Information Technology services are developed, deployed, and operating reliably for internal and external users, and oversees changes to FSX environments to keep the platforms up to date with current industry best practices. Additionally, Rogers provides proactive plans, ensuring FSX has appropriate backup and business continuity plans in the event of a data or system loss.
Rogers earned his Bachelor of Science in Computer Science from Washington State University.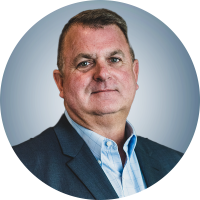 Kevin Woest
Vice President of Client Services and Strategic Programs
Kevin Woest is the VP of Client Services and Strategic Programs at File & ServeXpress.
Woest is responsible for managing multiple project streams and constituencies among our internal staff, clients, and vendors. Woest's duties include managing the who, what, and when of our vast project portfolio. His experience managing and optimizing a wide array of complex, large-scale, cross-departmental projects help him to identify internal process improvements within File & ServeXpress teams, and ensures FSX delivers timely, compliant, and efficient products to our users and clients.
Before joining the File & ServeXpress team, Kevin Woest held a series of integral leadership positions at Merrill Lynch and Bank of America, working his way from a banking center manager to a Senior VP and global team leader. There, Woest developed and executed contemporary workforce management strategies for global technology and operations, successfully identifying over $100 million in annual savings in efficient new practices and elimination of redundant activities.
Woest brings his extensive experience developing Operational Excellence Roadmaps for companies to File & ServeXpress in his role as Program Manager. Woest's passion for operational excellence and proven expertise in process automation and risk management make him an integral part of the File & ServeXpress team as we work to develop and implement innovative solutions for courts, government agencies, and law firms across the country.
Woest has a Masters of Business Administration from the University of Baltimore Merrick School of Business, and is Six Sigma Greenbelt Certified.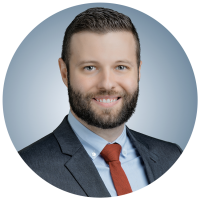 James Phillips
Vice President of Business Systems
James Phillips is the Vice President of Business Systems for File & ServeXpress, where he is responsible for managing all IT Development and Operations, as well as key court stakeholder relationships. Phillips works closely with the company's Chief Operating Officer to fulfill FSX's objective for holistic and exceptional customer service by delivering internal business systems that bring high value to FSX teams needing data and analytics to meet client needs, support client objectives, and ensure client satisfaction.
Phillips has a strong work ethic, and often collaborates court IT teams to implement and support FSX eFiling integrations including, but not limited to, the Washington, D.C. Superior Courts, Fulton County State Courts, San Francisco and Contra Costa Superior Courts, and the Delaware State Courts.
Phillips is the primary liaison among executive management team, enterprise architect, and IT development and operations for the company. He is depended upon to translate critical client business needs for his technical teams to deliver high-quality, reliable, and secure eFiling solutions.
Phillips has a rich history with FSX, having worked closely with the infrastructure team to direct the migration and consolidation of several distributed systems and networks into a single, Dallas-based data center. He leverages his authoritative expertise and detailed knowledge of FSX's systems, products, and business processes to provide leadership and innovation to drive the company forward.
Having begun his career with Google at the start of their interior panoramic imagery initiative, Phillips has more than a decade of IT consulting experience. Phillips holds a Bachelor of Arts degree from the University of Texas in San Antonio.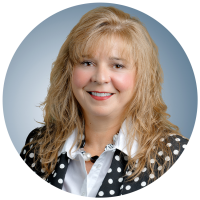 Tracie Taylor
Manager of Human Resources & Administrative Support
In her role as the Manager of Human Resources (HR) and Administrative Support for File & ServeXpress (FSX), Tracie Taylor is responsible for overseeing human resource relations and administrative support management for the company.
One of Taylor's key roles is to manage all aspects of HR workforce planning and employment, employee onboarding, benefits selection and coordination, 401(K) administration, policy development, employee relations, addressing staffing and employee needs as well as managing daily administrative needs of the office and executives. Taylor oversees human resources for the FSX business where she focuses on recruiting and retaining talented professionals and information technology experts to assist the growing demands of the market as the company expands services to law firms and courts nationally.
Taylor brings more than 11 years of HR and 29 years of business experience from Affiliated Computer Systems (ACS) and Xerox to FSX. ACS was a global provider of business process and information technology and fortune 500 company based in Dallas that was acquired by Xerox in 2010. From ACS, Taylor gained tremendous experience working with the company's Founder and executive officers in strategic planning decision making, employee leadership development, acquisition and diversification strategies, IPOs, implementing operational excellence programs which ultimately resulted in double-digit revenue growth for ACS for 17 consecutive years.
Taylor has worked for FSX more than four years. She brings a solid business administration and operations management background to FSX with a proven ability to collaborate with the executive team and increase employee and client satisfaction. She has the professionalism and experience necessary to set, ensure, and lead our employees to a high standard and expected level of excellence needed by our legal and judicial clients. She works every day to lead her teams to meet the company's strategic objectives. Taylor has a passion for people, which makes her an exceptional asset to the FSX team and clients.